Botan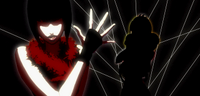 Quote
Botan es un miembro importante de Aquellos del Pasado, y se ha encargado de dirigir eventos decisivos para los planes de la organización. Ella usa su poder de hilos de titiritero para manipular a personajes clave.

En el torneo The King of Fighters 2003, ella controla a Chizuru Kagura con sus hilos de titiritero para que organice el torneo 2003, y más tarde para que se enfrente a sus propios compañeros de equipo, dando tiempo a los Heraldos para romper el sello de Orochi.

En The King of Fighters XIII, Botan controla a Rose Bernstein para obligarla a que organice un nuevo torneos que sirvaa al grupo para colectar la energía necesaria para abrir la Puerta del Tiempo. Al final de la historia, Botan es arrojada a otra dimensión junto con el resto de los Heraldos, cuando Ash Crimson se enfrenta con Saiki.
En fin me decidi crearlo para mugen normal y aqui ire posteando los avances que le haga,aunque aun no esta ni en un 20 % lo estara en el futuro ya que me esmerare en ella.
sprites:
Base stand 01:

Base stand 02:

Cansada(base shion)
Small Portraits:


run 01:

run02 (colaboracion de churky):
bigportrait: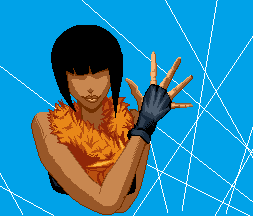 saludos!